Thin Chen Enterprise
Entity Information
Thin Chen Enterprises is a Taiwan-based game producer that started in 1988. The CEO of the company is Mr Ching Jung Tseng. Thin Chen seem to have only produced games for 8-bit systems: NES, Supervision, GameBoy and GameBoy Color (Sega Master System possibly as well) as well as various TV Game Consoles and handhelds with games built-in.
They began with unlicensed NES games under the names "Joy Van" and "Commin". Later games showed the names "Sachen" and "Thin Chen Enterprise" .The cartridges are 72-pin and come with boxes and instruction manuals just like official NES games. Some titles were also released on 60-pin cartridges. Multi-carts with a compilation of these games were released later down the track. Some of these may be mistaken for pirate carts, but they are actually original games developed by Thin Chen Enterprises. Notice the "7-in-1 No Repetition" printed on this cart (many pirate carts repeat the same games over and over).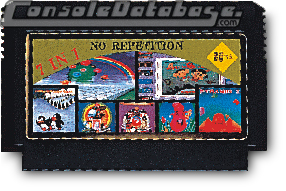 The games were released in Asia by Sachen, however, some titles were brought to Australia by HES in the early 1990s. A few titles were slightly changed and released by Bunch Games in USA. Pyramid was released by AVE in USA.
When Supervision was released, Thin Chen made games for that as well. Pyramid was one of them as well as some other NES titles. The company also made GameBoy titles which were released on multi-carts. Some of these, too, were NES titles.
When the GameBoy Color replaced the GameBoy, Thin Chen once again used their NES and GameBoy titles and released them in colour. These showed the name "Commin" on the title screen.

Thin Chen Enterprises is also known for the consoles they make. They made NES clones to play the NES games they made. These can be bought with or without built-in games (see Sachen TV Game Console). It is also believed that the Family Game Entertainment System was made by Thin Chen because of the Sachen game pictures on the side of the box (right). The console comes with built-in games as well, but they are pirate games, not original Sachen games.
Like the Rumble Station, Thin Chen also made handheld TV-Link plug and play consoles (see Thin Chen Enterprises TV Handheld Game and Thin Chen Enterprises TV Light Gun Game). They are made in the shape of a controller or gun and can have games built-in. All that you need to do is hook it up to a TV and play.
Thin Chen Enterprises was known to be still in existence up until around 2002, but appear to have since become defunct. Their website was last active in 2002 and has since disappeared from the Internet.