Supervision
Console Information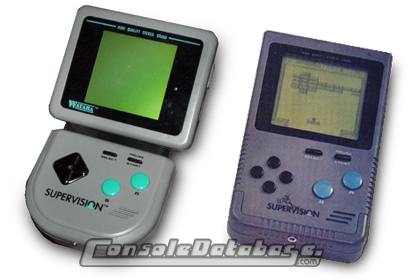 There are two basic shapes of the Supervision. One is just like the shape of a GameBoy and the other has a bendable mid-section. From these two basic shapes came further variations in colour, style and overall appearance.
Supervision originated from Hong Kong to compete with Japan's Nintendo GameBoy in 1992. It has all the same parts in the same positions, however, the Supervision benefits from a larger LCD screen and resolution (160 x 160 pixels compared to GameBoy's 160 x 140 pixels; a negligible difference) and the more prominent versions have a bendable mid-section to adjust the screen\'s angle thus improving player comfort. The A and B buttons are 50% larger than those on the GameBoy and there is an extra sound channel. It has a headphones jack, DC jack, 2-player link-up and the same button set-up as the GameBoy. It also has similar games, but unfortunately the games were not as fun and challenging as the GameBoy and so only about 65 were released in North America with others distributed exclusively in other parts of the world. The console itself, however, did have a fairly large following in Europe and Asia, but not so much in other parts of the world. It was because of the lack of quality games and not enough advertising that the console did not survive.
The games were mostly in-house productions and not of a high standard, however there were some games made by other companies like Bon Treasure, GTC and Sachen. The games sold for less than half the price of GameBoy games. The console itself with a game, batteries and earphones was 5% cheaper than a GameBoy with batteries only. Neither GameBoy or Supervision games are compatible with each other nor is the 2-player link-up, however the DC power supply for GameBoy can be used with the Supervision. The Supervision has an extra stereo output channel for Audio DMA on top of the four tonal and one noise channels that it and the GameBoy have in common. Both of these consoles use VLSI processors and 8-bit Microprocessor unit video chips.
The Supervision was licensed in many countries under different labels. The companies often gave their own touch to the console design which they manufactured (see more in the variations section). Crystball was the pack-in game with most versions of the Supervision, but among one of the many Watara releases came one with Classic Casino as the pack-in game. Supervision had a number of accessories available to enhance the console.
It's a shame this console did not take off very well. It still had a reasonable following, but not enough to keep it going. It had potential and if it had lived as long as Nintendo's GameBoy, we may have seen a colour version and one with improved graphics too. The final Supervisions were made in 1996.
Supervision Technical Specifications
CPU: 8-bit VLSI

Screen: 61 mm x 61 mm (2.37 inches x 2.37 inches), yielding 25600 pixels (160 x 160 pixels resolution), 4 greyscales.

Power: 4 x AA Batteries

External Power Supply: DC6V

Sound: 4 Tonal and 1 Noise Channel plus additional audio DMA stereo output channel. Built-in speaker and headphone jack with stereo earphones included.

Communication Port: Two Player Link using DB-9 connector.
System Development Status: Complete
System Release Status: Released
Platform: Supervision.