HES
Entity Information
HES (Home Entertainment Suppliers) is based in Sydney, Australia. They started out releasing games for the Atari 2600 in the late 1980s under the Activision label. The games mostly came in plastic cases, unlike normal Atari carts, however, in later (Atari) years, cardboard packaging was used. The instructions were printed on the back of the slick that goes inside the plastic cases.
| | | |
| --- | --- | --- |
| | | |
| HES Atari game in plastic case. "Activision presents" is printed at the top. | Later game in cardboard Atari-like box. | Notice the cartridge of Star Warrior has "HES presents" at the top. |
These games were initially only on single carts, but they would usually end up on a multi-cart later down the track, like this 3 in 1:
HES also released accessories for Atari 2600. In the later years of Atari, their new logo started appearing on their carts and accessories. When they started releasing NES titles, all the games came with the new logo.
With Nintendo Entertainment System, there was a problem--the Nintendo Lockout chip. This is a chip that was mainly designed to "lock out" foreign games, for example if you wanted to play a US game on your Australian system. Each official Nintendo cart came with a country lock so that it would be compatible only with the console it was designed for. But HES couldn't get around the chip by means of country locks, so they designed the "HES Dongle". The cartridge has wires that feed out through the door of the NES to the separate "dongle" component. A normal, official NES cart is then plugged into the "dongle" and the HES cart uses the chip from the official cart to make it work.
They soon improved on the "dongle", with the "HES Piggy-back" cartridge. This worked in the same way, except the door is open and the official NES cart sticks out. It is a better idea because it is easier to use, more sturdy, and it looks better (more compact) than the "dongle".
| | |
| --- | --- |
| | |
| Instructions of how to use | Piggy-back cartridge |
HES released a number of titles for the NES. Some were quite rare and sought-after titles that wouldn't have been released at all if HES hadn't released them. A lot of the games weren't even released in America or Europe. The companies the games came from were unlicensed game producers, mainly from Taiwan, Hong Kong and America. These companies were: American Game Cartridges, American Video Entertainment (AVE), Bit Corp., Color Dreams, EPYX, Thin Chen Enterprise (Sachen, Joy Van, etc) and Tengen. Some games had no companies credited and remain unknown. HES also released AVE's Maxi 15 Cartridge to Australian audiences, initially as a rental cart which could be ordered to buy by telephoning the number on the cart. Excess stock of these carts was made and so it was then sold in stores.
The cases for Nintendo Entertainment System carts was much the same as the Atari cases; plastic, with the instructions printed on the back of the slick. The multi-cart package design was also much the same.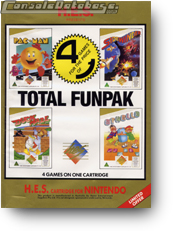 In the later NES years, HES made an attempt at making their games look more official. They also tested out new ways of getting past the lock-out chip. They started releasing games with no dongle and no piggy-back and they came in a cardboard box.
| | | |
| --- | --- | --- |
| | | |
| The carts have no dongle or piggy back. This Toobin' cart works well - just like a normal NES cart, however, not all of these new carts work, and will just flash on and off. An HES Unidaptor (see below). or similar adaptor is needed to make it work. | The boxes are the same size as normal Nintendo boxes. The design is like a Tengen cart, even though this game is not made by Tengen. The game is actually called Pipe 5 by Sachen, but it has been given a more appealing title on the box. | This Pyramid box is the exact same AVE box used in America. |
Most of these new carts worked as soon as the NES was turned on - just like a normal NES cart. Others would not work at all, and would flash on and off just like when you try plugging in an HES dongle/piggy back cart with no NES cart in the back. The sad thing about HES Nintendo carts is that they use EPROMS. These are cheaper, thus the HES carts were always sold for less than official NES carts. So what's the sad part? Well, EPROMS erase themselves after 20 years, so you'd better play those games before they're gone.
HES also released many accessories for the NES and at the same time, were the official distributors of Atari Lynx and its accessories in Australia. They also made one of the best adaptors known for the NES: The HES Unidaptor.
| | |
| --- | --- |
| | A generic controller that would have been distributed by a number of companies around the world, but in Australia, it was distributed by HES. |
| | |
| --- | --- |
| | Notice the HES distribution info on this Lynx box |
HES released a number of games for the Sega Master System and Nintendo GameBoy and GameBoy Color, mainly multi-carts. Gameboy accessories like magnifiers and power adaptors were also made, as well as Master/Mega converters for Mega Drive, and still to this day they continue to make accessories for all consoles. They also sold refurbished Super NES games and distribute N64 games (but don't make them). They still exist today, distributing in Australia for Madcatz, Datel, Tru Blu, Sony Computer Entertainment and others as well as creating PC games. Visit their website here.
| | | |
| --- | --- | --- |
| | | |
| A Game Boy 4 in 1 with Sachen games, released by HES. | Gameboy power adaptor. | Master/Mega converter for Sega Mega Drive. |
HES's NES games were reasonably popular, but with all the Nintendo propaganda about only buying official games, some people were hesitant to buy. The different packaging and dongle/piggy-back carts of the early days was a give-away that they weren't official.