Tri-Star 64
Accessory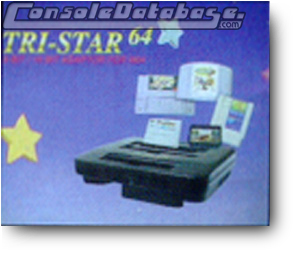 Type: Cross-Platform Adaptor
The Tri-Star 64 is an unlicensed accessory for the Nintendo 64 made by Future Laboratory. It is an adaptor that allows you to play Nintendo Super Famicom (SNES) and Nintendo Famicom (NES) games on your Nintendo 64. This is the follow-up to Future Lab's Tri-Star for Super NES.
The adaptor must be inserted into your Nintendo 64's cartridge port and rests on top of the console. It requires its own power supply (not included, but a Super NES power supply works fine) and an official Nintendo 64 cartridge to be inserted into the front slot to boot the other cartridges (much in the way HES did with their Unidaptor for the NES).
Also included inside the Tri-Star 64 is a cheat machine called X-Terminator that is similar to a GameShark and you to select from a list of cheat codes to use in various games.
The only major downside to the Tri-Star 64 is the loss of quality when playing SNES and NES games. If you compare the picture quality when playing a game on the SNES and playing the same game on the Nintendo 64 using the Tri-Star 64, you will notice that the image lacks saturation through the Tri-Star 64. Other than that, the Tri-Star 64 is compatible with almost all of the Famicom and Super Famicom games available, giving you a massive selection of titles that you can play all on the one system.