HES Unidaptor
Accessory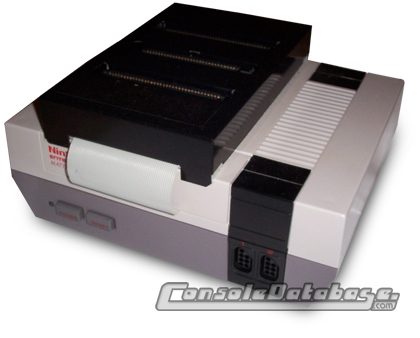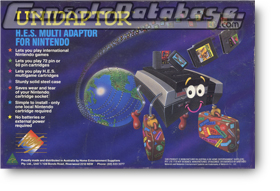 Type: Media Size/Region Adaptor
The HES Unidaptor is an excellent device that allows you to play import 72-pin and 60-pin NES/Famicom games on a PAL NES. Because it is not authorised or endorsed by Nintendo, HES (Home Entertainment Suppliers) had to use the same idea from their cartridges to get past the lockout chip.
| | |
| --- | --- |
| | |
| Unidaptor with 72-pin and 60pin cartridges. | The Unidaptor can be permanently attached to the NES using the adhesive strips provided. |
The way it works is a normal, official Nintendo cartridge is plugged into the 72-pin back socket to make it work (using the chip from the official cart to make the device work). This cartridge stays there while you either put a 72-pin cart in the front socket (this could be an import 72-pin game, like NTSC on PAL console or a pirate 72-pin cart like a Spica cart (such as this 31 in 1) or you can use this socket to play your normal NES games), or insert a 60-pin Famicom cart into the middle socket.
This device also allows you to play HES "Piggy Back" and "Dongle" cartridges without plugging an NES cart in the back. Playing Action 52 in this device will not flash on and off on start-up, and the Pro Action Replay can also be used through the device, however, the Game Genie will not work through the top slot, but will work if you plug the Unidaptor into the Game Genie which is plugged into the NES, which does work, but is quite awkward. Also, using the device with the newer, top-loading design of the NES would be awkward. HES later released the Unidaptor MKII, a simplified version which only has a port for playing 72-pin games.