Pro Action Replay
Accessory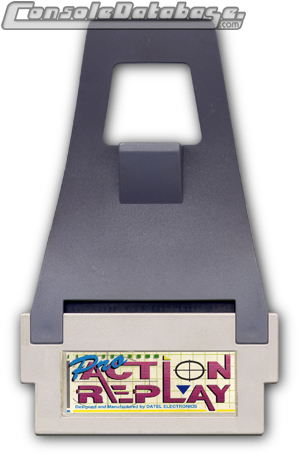 Type: Cheat Device
The Pro Action Replay is a device for the Nintendo Entertainment System, similar to a Game Genie, which allows the user to enter codes (often referred to as "Parameters") that will alter the way a game plays. Designed and manufactured by Datel Electronics Ltd in the UK (for use with PAL consoles), the device works when a cartridge is plugged into the back end of it and then, the paired devices are inserted into the NES. When the NES is turned on, the "Parameter Screen" appears, allowing the user to enter codes.
The Pro Action Replay came packaged with a small code book featuring codes for 19 popular NES titles. The codes are usually for things such as unlimited lives or unlimited energy (i.e. cheat codes), but can sometimes also provide other changes in game play, just for sheer amusement (like changes in the appearance of items).
While the Game Genie may at first appear more appealing, with its massive code book of over 290 games, it does not come with a "Trainer". The Pro Action Replay does. The "Trainer" may be accessed from the Pro Action Replay's menu (accessible by pressing the reset button) and enables the user to discover new codes for any game. This means that you can potentially find codes for every NES game you own, while the Game Genie will only allow you to use the codes provided in the book or on the Internet (like found in Console Database's NES Cheats Index), unless you want to go through the process of encoding hexadecimal values into the letter codes used by the Game Genie. The other advantage of the Pro Action Replay is that you may enter up to 5 codes at once, whereas the Game Genie will only allow you to enter 3 at once.
The Pro Action Replay may also be used as an adaptor for playing NTSC games on a PAL console. A switch on the side of the unit allows the user to switch between PAL and NTSC. Overall, the Pro Action Replay is a handy device to have for both conversion and cheat code purposes. Console Database holds the largest index of Pro Action Replay codes for NES on the web in our NES Cheats Index.