Game Genie
Accessory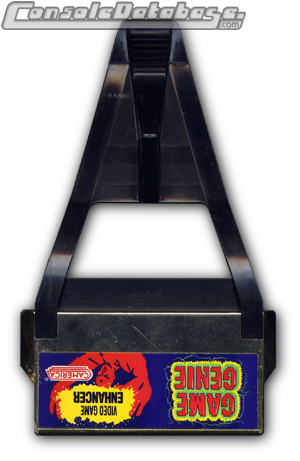 Type: Cheat Device
The Game Genie is a device for the Nintendo Entertainment System that allows the user to enter codes that will alter the way a game plays. Developed by Codemasters in the UK and manufactured by Camerica, it was marketed by Galoob in North America, however, it was imported into other countries, even those using the PAL format (thus some Game Genie codes found in the code books won't work on PAL systems as they were meant for the NTSC version of the game). The device works when a cartridge is plugged into the back end of it and then, the paired devices are inserted into the NES. When the NES is turned on, the code input screen appears, allowing the user to enter codes.
The Game Genie came packaged with a code book featuring codes for over 290 NES titles. The codes are usually for things such as unlimited lives or unlimited energy (i.e. cheat codes), but can sometimes also provide other changes in game play, just for sheer amusement (like changes in the appearance of items or super high jumping ability).
The Game Genie does not come with a "Trainer" like the Pro Action Replay does, which allows the user to discover new codes for any NES game. Additional Game Genie codes could be found in later volumes of the Game Genie code books, all of which were eventually published for free access on Galoob's website (which no longer exists after Hasbro bought the company). Today, you can find Game Genie codes on various websites, including Console Database's NES Cheats Index. The only other way of discovering new Game Genie codes is to go through the process of encoding hexadecimal values into the letter codes used by the Game Genie.
The Game Genie's other downside when compared to the Pro Action Replay is that it only allows you to enter 3 codes at once compared to 5 on the Pro Action Replay. There are a couple of cheats for the Game Genie that require you to enter 4 codes at once for them to work, but how is this possible when the Game Genie only allows you to enter 3 at once? You'll need 2 Game Genies. Connect the Game Genies together along with the game cartridge.