GB Hunter
Accessory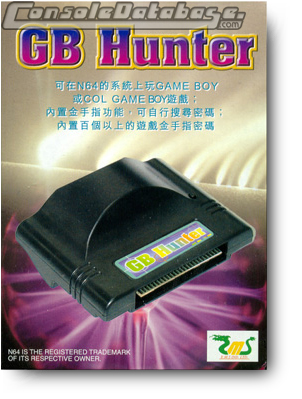 Type: Cross-Platform Adaptor
The GB Hunter is an accessory made by EMS Industry Ltd. It allows you to play any GameBoy or GameBoy Color game on your Nintendo 64, with the exception of multi-game paks.
The 72-pin back socket where you insert an official Nintendo 64 cartridge
| | |
| --- | --- |
| | The way it works is a normal, official Nintendo 64 cartridge is inserted into the 72 pin back socket (above) to make it work (using the chip from the official cart to make the device work, much like the way HES did with their "piggy-back" NES carts). This cartridge stays there while you insert a GameBoy or GameBoy Color cart in the top socket front socket. |
Black and white GameBoy games turn out quite clear. The screen is displayed in a box in the centre of the screen, however, you can zoom in to view full screen.
| | |
| --- | --- |
| | You can also change the shades of grey to colours. There are three bars with 4 shades of grey. One bar represents sprites controlled by the player, another represents other moving objects and the other one represents the background. |
| | |
| --- | --- |
| | You could turn a boring black and white screen into this if you wanted! |
If you play a game that has been made compatible with the Super Gameboy for SNES, it will automatically play in colour and use the colour border that you would see if playing on a Super Gameboy.
| | |
| --- | --- |
| | Or you can choose one of the four borders available with the GB Hunter. |
| | |
| --- | --- |
| | The GB Hunter also acts as a cheat machine with hundreds of built-in "Golden Finger Codes". You can choose your game from the list, then within that game there are different cheats to choose from that you can add to the list. |
| | |
| --- | --- |
| | If your game is not listed, the GB Hunter has a trainer, just like the Action Replay, to help you find a code for what you want. |
The GB Hunter can also be found with a label that reads "Super GB Booster". The only difference is the name; the product is the same.
GB Hunter is useful in many different ways; for playing GameBoy games full screen, adding colours to black and white games and using cheats with GameBoy games. This would have to be one of the best GameBoy adaptor around.