Nintendo Pokémon Mini
Console Information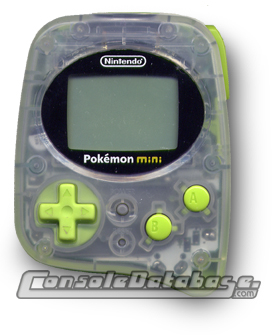 The Pokémon Mini is a very small portable console (like a Dreamcast VMU) for playing mini Pokémon games. It was announced at the 2001 Nintendo Euro Show and released later in the year. The games come on small game cartridges (called "game chips") that are about half the size of a GameBoy Advance cartridge. The console itself is smaller than half the size of the GameBoy Advance. The screen is black and white LCD.
The console only takes 1 AAA battery, which lasts around 60 hours. Other features include a rumble feature, 1 metre (39.37 inches) range infrared (for data transfer) and a motion sensor (some games require you to shake the Pokémon Mini and the motion sensor will sense this movement). This is a great console if you like to play mini games and puzzle games but they may get boring quickly since the games aren\'t very large. You\'ll need to buy new games often to keep it interesting.
Nintendo Pokémon Mini Technical Specifications
Dimensions: 74 mm (2.91 inches) high x 58 mm (2.28 inches) wide x 23 mm (0.91 inches) deep.
Weight: 70 grams (less than 3 ounces)
1 x AAA battery (included)
1 metre (39.37 inches) range infrared
LCD monochrome screen
Rumble Feature
Motion Sensor
System Development Status: Complete
System Release Status: Released
Platform: Nintendo Pokémon Mini.