Nintendo GameBoy Advance/GameBoy Advance SP
Console Information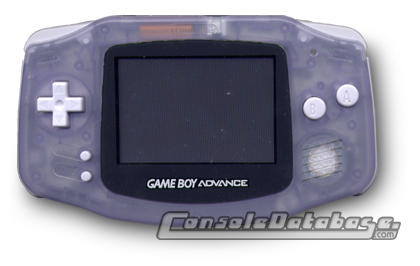 Nintendo unveiled the GameBoy Advance on August 24th 2000 at Spaceworld in Tokyo, Japan after talks of the console going back to a year before. It was released to the public on March 21st 2001 for a price of 9800 yen. Nintendo felt it was time to upgrade the capabilities of their GameBoy console after over a decade on the market and many changes in appearance, size and a colour screen (GameBoy Color).
The GameBoy Advance is what Nintendo wanted to achieve with Project Atlantis (a 32-bit colour handheld that was backwards compatible). It is almost the exact same size as the GameBoy Color, but held lengthwise with the buttons at the sides and the screen in the middle. It features all the same buttons as the other GameBoys except for two extras on top (shoulder buttons). The screen is wider and larger than the normal GameBoy screen. GameBoy Advance is fully backwards compatible with GameBoy and GameBoy Color games which means you have access to a huge library of titles. GameBoy Advance take cartridges which are about half the size of normal GameBoy carts.
The GameBoy Advance can be attached to the Nintendo GameCube and games will interface between the two consoles.
On January 6 2003, Nintendo announce the GameBoy Advance SP, a more compact version of the GameBoy Advance that features a number of improvements on the original GameBoy Advance including a frontlit screen and a recharagable battery with up to 18 hours play time (with the screen light turned off; 10 hours with the light turned on). The battery can be fully recharged through the system itself within 3 hours. The SP version also comes with a multi-access port that is used for the AC adaptor and will also accept headphones if you use the special adaptor that Nintendo has also developed.
The GameBoy Advance SP was released in Japan on 14th Febrary 2003 for 14 500 yen and later released in the US on March 23rd 2003 at the price of $99US. It features a clam-shell design, built-in rechargeable lithium-ion battery and a backlit screen. In 2005, Nintendo released the GameBoy Micro - another variation of the GameBoy Advance, only this time it was much smaller - about 2 times bigger than an iPod mini, but only a third the weight. It also features the backlit screen and rechargeable battery.
Although the GameBoy Advance is 32-bit, there is no 3D processor, so games will be mostly 2D (they look similar to Sega 32X games).
Nintendo GameBoy Advance Technical Specifications
CPU: 16 MHz 32-bit RISC-CPU + 8-bit CISC-CPU

Memory: 32KB WRAM + 96KB VRAM + 256KB WRAM

Screen: Reflective TFT Colour LCD

Screen Size: 40.8 mm x 61.2 mm

Resolution: 240 x 160 pixels

Display Ability: 32 000 colours

Sound: Mono speakers, stereo headphones

Multiplayer Options: Up to four GBAs, up to two GB/GBCs

Power: Two AA batteries, or battery pak

Battery life: 15 hours for batteries, 10 hours for battery pak

Dimensions: 82 mm x 144.5 mm x 24.5 mm (GameBoy Advance), 101.6 mm (4 inches) wide, 50.8mm (2 inches) tall, 17.8 mm (0.7 inches) thick (GameBoy Micro)
Nintendo GameBoy Micro Technical Specifications
System Development Status: Complete
System Release Status: Released
Platform: Nintendo GameBoy Advance.