Super GameBoy
Accessory
Type: Cross-Platform Adaptor
The Super GameBoy is an adaptor that allows you to play GameBoy games on Super NES. To use the device, you must insert a GameBoy cartridge into the port at the top and then insert the Super GameBoy into your SNES cartridge slot (using the two extra 8 pin connectors).
Any GameBoy game can be played with the adaptor and will be displayed in a window on the screen with the four greyscale shades being substituted with colours. Later-release GameBoy games often came with special borders included on the cartridge, specifically for the purpose of viewing in the Super GameBoy, however, these special borders are also visible when playing these later-release games using a GB Hunter on Nintendo 64.
The device also came with additional features such as the ability to customise game colours, choose your own border, an art program and a screen saver program.
The Super GameBoy was released in all parts of the world, the initial price being US$59.95 in USA. The device later came bundled set with the Super NES.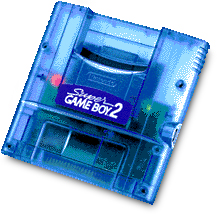 In February 1998, Nintendo released a new version of the device, the Super GameBoy 2. This version features a number of improvements on the original including compatibility with GameLink games and games with more than 2 players. Super GameBoy 2 also had 2 LEDs for indicating power and GameLink usage.