V-Tech V.Smile
Console Information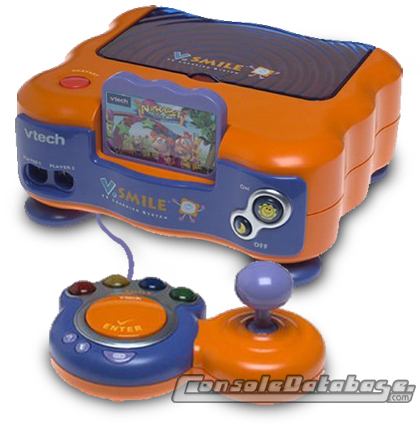 The V.Smile by V-Tech is an educational video games system targeted at 3-7 year-olds. Using the video game format, it delivers educational software in an entertaining way, much in the way the Sega Pico had done in the mid-1990s.
The V.Smile runs on three C-sized batteries (not included) or a 9 Volt AC adaptor, which may be purchased separately. The system uses large controllers that are easy for children to operate, and allows for 2 of these to be plugged in so that children can play games together. Games are stored on "Smartridges" (like cartridges) and come in a number of titles, many of which are based on Disney movies.
Upon release, the system sold for $59.99 USD, with extra Smartridges selling at $19.99 USD, and additional controllers costing $14.99 USD. The V.Smile is a good idea for teaching young children in a fun way.
V-Tech V.Smile Technical Specifications
Info needed. Submit here.
System Development Status: Complete
System Release Status: Released
Platform: V-Tech V.Smile.