SNES CD-ROM
Console Information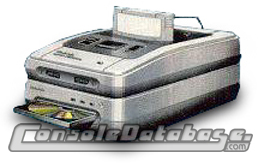 In the mid-1980s, Sony Researcher Ken Kutaragi bought his daughter a Nintendo Famicom and was disappointed by the system\'s sound chip and use of cartridges rather than floppy disks. Having knowledge and research in this field, he independently approached Nintendo to see if they could use his research team\'s floppy disk technology. Nintendo chose not to, but were still interested in getting a Sony sound chip made for its upcoming 16-bit console.
Kutaragi did not have the authority to make deals on behalf of his company so he developed a sound chip in secret, only revealing it to his boss, the head of Research and Development at the time. Nintendo then wanted a joint press release with Sony to announce the use of Sony\'s chip in their new system. When the Sony senior executives found out that Kutaragi had been helping a rival company, they were quite angry. Sony\'s president, Norio Ogha, however, gave permission for Nintendo to use the chip as it would bring more profits into his company.
In 1988, Nintendo contracted Sony to create a Super Disc drive for the upcoming Super Famicom (The 16-bit console mentioned above) in the tradition of the Famicom Disk System. When Nintendo began planning for the Super Famicom\'s 32-bit successor, they again got help from Kutaragi who suggested the use of CD-ROMs. At this time, most of Sony\'s executives were still reluctant to help a rival company and so Kutaragi asked Ogha to create a special group for the Nintendo project, much like he had previously done with the Sony Music Division. He approved, and so production soon began.
Previously, it was uncertain whether this project would be a standalone console or an add-on for the Super Famicom and whether it would be 16-bit or 32-bit. By 1991, they were certain of what the console was going to be. It would be a 16-bit add-on for the Super Famicom that sits underneath the system and uses CDs. This was to compete with the Sega Mega CD, which had been announced that same year and due for release in December.
Sony did, however, make a few versions of the system (by this time, called the PlayStation). One was the SNES-CD just mentioned, another was a standalone system that could play its own CD games and SNES games (Sony later developed this into their own PlayStation, but this original version is not the same as the PlayStation we know today), and there was also a chipset that could be re-manufactured by anyone that was licensed to do so.
Nintendo intended that the CD-ROMs would be encased in a custom plastic caddy complete with a SNES-style lockout chip (The Nintendo Disc (ND) as shown above) to ensure they had full control over the game licensing. But Sony wanted to put the lock-out chip inside the CD-ROM drive controller, which is inside the machine, and leave the games as normal CDs (i.e. no plastic caddy). There was nothing that Nintendo could do. Their original agreement with Sony from 1988 granted Sony the right to license all CD-based games for the system. And so, Sony quietly did, and announced the system at the Summer CES (Consumer Electronics Show) of 1991 in Chicago, proclaiming that they intended to broadly license it to the whole software industry. Nintendo CEO, Hiroshi Yamauchi, had no intention of losing control over this process and so he went and made an agreement with Sony\'s rival, Philips, to produce the system instead.
The next day at a 9am public press conference, Nintendo\'s Howard Lincoln announced that he had signed a deal with Philips, stating that Philips would offer superior workmanship since they invented CD-ROM technology. The real reason, of course, was to ensure full control over the game licensing. Sony tried to make Nintendo change their minds by threatening to sue them. Nintendo said they would do some negotiating, but this came a long time later on.
Nintendo and Philips were now developing a SNES CD-ROM system that is to be compatible with the upcoming Philips CD-i. Nintendo would have the full control over licensing that they wanted and the discs would be encased in the plastic caddies, as announced by Nintendo at CES 1992. Philips got a special license deal with Nintendo that allowed them to use some of Nintendo\'s characters in games they made. This system was to be released by Christmas 1992 (for a price of US$200), but this date was later changed to early 1993. Meanwhile at Sony, they were still working on their own PlayStation and announced it at the Tokyo International Electronics Show in October 1991. At this time, their system was still going to be compatible with SNES games as well as their own CD games and CD software, of which they announced a few educational titles at the time of announcing the console. As mentioned above, though, this PlayStation was not the same as the PlayStation we know today, in fact the PlayStation we know today is a completely rebuilt console.
As Nintendo had said, they were going to do some negotiating with Sony. They had to - Nintendo\'s top-selling system, the SNES, relied on the chip made by Sony and any falling-out between the two companies would jeopardise the further production of SNES consoles. It took a bit of persuading from Nintendo\'s licensees, but they finally did come to do some negotiating with Sony and came to an agreement in October 1992. The agreement was for a new SNES CD-ROM add-on, this time to be made by Nintendo, Sony and Philips and called the SNES Nintendo Disk Drive (a.k.a. Philips CD-ROM XA). The agreement allowed Nintendo to control game licenses and Sony could control the licenses for other software, like the educational programs planned for the PlayStation. It was also decided that the system would be 32-bit, not 16-bit and still compatible with the CD-i.
The new system\'s technical specifications were released in April/May 1993 and the release date was early 1994 (the announced price was US$299). The system was to be attached via the SNES expansion slot and worked by placing the "system cartridge" into the cartridge slot of the SNES. This cartridge contained a chip that handled the communication between the SNES and the SNES CD-ROM\'s RAM by using a system called HANDS (Hyper Active Nintendo Data-transfer System).
None of these systems made it for a number of reasons. The various mix-ups and legal wrangling between the companies caused great delays in production. There were also development problems because of the SNES\'s slow CPU (remember that the SNES has a slower CPU than the Mega Drive and so it would have been harder to interface the SNES and SNES CD-ROM than it was for Sega with the Mega Drive and Mega CD), causing delays. And finally, when things seemed okay, the SNES\'s Super FX chip came into use and so the system had to be upgraded to better the chip. Nintendo didn\'t want to continue paying for development when they could build a new console in less time. And so there was no CD add-on released for the SNES and Nintendo never got to make a 32-bit console to compete with the other 32-bit consoles of the mid-1990s, but instead made the Nintendo 64.
In the end, Sony went on to create their own PlayStation - rebuilt from the ground up, Philips made the CD-i and, using the license they had obtained earlier, got 1 Mario and 3 Legend of Zelda games made for their system with no involvement from Nintendo. And there are a number of various systems around that never made it past prototype stage.
SNES CD-ROM (First Philips model) Technical Specifications
RAM: 8 Mbit
Sub-memory: 2 Mbit
ROM: 2 Mbit
Min. access time: 0,75 sec
Max. access time: 1,3 sec
Co-CPU: Yes
Video: Yes
CD-I compatible: Yes
SNES CD-ROM (Philips CD-ROM XA) Technical Specifications
Co-CPU: 32-bit RISC
CPU speed: 21.477 MHz
RAM: 8 Mbit
Sub-memory: 1 Mbit
ROM: 2 Mbit
Cache: 8 Kbit
Access time: 0,7 sec
Data transferring speed (between the SNES and the CD-ROM): 150 or 300 Kbit/sec
Colours: 16.7 million
CD-I compatible: Yes
For the Sony PlayStation Technical Specifications for both their first model announced 1991 and their final model, released 1994, see Sony PlayStation.
System Development Status: Prototype
System Release Status: Unreleased
Platform: SNES CD-ROM.