Sega Triforce
Console Information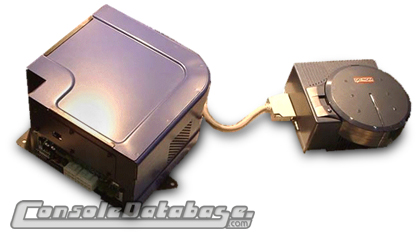 The Sega Triforce was conceived as a joint venture between Sega, Namco and Nintendo to
produce a low cost arcade system. Somewhat based on the GameCube, but thought to be twice as powerful, the Triforce incorporates the Naomi GD-ROM. Sega\'s AM4 department re-wrote the Naomi development toolkit to be completely compatible with the Triforce, thus making it very easy to program for as both Sega and Namco are familiar with this toolkit. The Naomi GD-ROM was also made compatible with the Triforce.
This Jamma-compatible system may also have the ability to play multiplayer games between
people in arcades and home consoles using the Gameforce Network. Some known titles for the Triforce are: F-Zero AX, Gekitou Pro Yakyuu, The Key Of Avalon, The Key Of Avalon : Summon The New Monsters, Virtua Striker 2002.
Sega Triforce Technical Specifications
CPU: IBM Power PC "Gekko"
Sound DSP: Custom Macronix 16bit DSP @ 81MHz
Main RAM: Main Memory 48 MB MoSys 1T-SRAM, Approximately 10ns Sustainable Latency.
Graphics Engine : "Flipper" (Custom ATI/Nintendo)
Colour: 24-bit Colour, 24-bit Z Buffer.
Hardware Features: Fog, Subpixel Anti-aliasing, 8 Hardware lights, Alpha Blending, Virtual Texture Design, Multi-texture, Mapping/Bump/Environment Mapping, MIPMAP, Bilinear/Trilinear/Anisotropic Filtering, Real-time Texture Decompression (S3TC), HW 3-line Deflickering filter.
System Development Status: Complete
System Release Status: Released
Platform: Triforce.