PSp
Console Information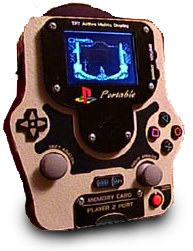 Not to be confused with the official PSP (PlayStation Portable) made by Sony, this PSp was made a number of years earlier by Benjamin J. Heckendorn, the maker of many homemade portables, simply as an experiment for fun. It was made using a PSOne as it is smaller than the normal Playstation and therefore easier to convert to portable size. Ben used a Casio EV-550 pocket television for the screen. The console runs on an NP-550 camcorder battery, which can be recharged. He also made special casing that could fit all the components, including a dual shock controller, into one tidy little hand-held unit. The job took about 16 days to make; not bad for a hand-made portable. Find out more about the construction at Ben\'s Site.
This handheld is a custom made job by Benjamin J. Heckendorn and is not endorsed by or affiliated with the parent company of origin. Pictures courtesy of Benjamin J. Heckendorn.
System Development Status: Complete
System Release Status: Unreleased
Platform: Sony PlayStation/PSOne.