Microsoft Xbox 360
Console Information
This system is also known as: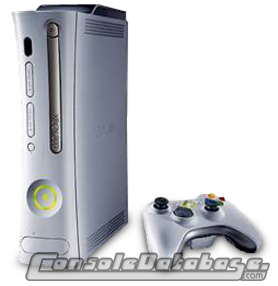 It had been known for some time that Microsoft were developing a follow-up to their Xbox console, believed to be called the "Xbox 2". On Thursday March 12th 2005, Microsoft officially unveiled this console, known as the "Xbox 360", on a half-hour TV special screened on MTV, however, some of the 200 people who attended the taping of the program, a week earlier, leaked images and specs of the console onto the web prior to the official unveiling.
The Xbox 360 is said to have exceeded many people's expectations, with its extremely realistic, "movie-like" graphics. The console also features a 20GB hard drive and 3 processors enabling high definition graphics and surround sound.
Microsoft intend to outdo Sony's PlayStation 3, which will be the main rival of this system, in order to gain a larger market share. North America's release was 22nd November 2005. The Australian release will be 23rd March 2006 (delayed from the original release date due to high demand elsewhere).
Microsoft Xbox 360 Technical Specifications
CPU Type: Custom IBM PowerPC-based CPU with 3 symmetrical cores running at 3.2 GHz each, 2 hardware threads per core; 6 hardware threads total, VMX-128 vector unit per core; 3 total, 128 VMX-128 registers per hardware thread, 1 MB L2 cache
CPU Game Math Performance: 9 billion dot product operations per second
Graphics Processor: Custom ATI Graphics Processor with 10 MB of embedded DRAM, 48-way parallel floating-point dynamically scheduled shader pipelines, Unified shader architecture
Polygon Performance: 500 million triangles per second
Pixel Fill Rate: 16 gigasamples per second fill rate using 4x MSAA
Shader Performance: 48 billion shader operations per second
Audio: Multi-channel surround sound output, Supports 48KHz 16-bit audio, 320 independent decompression channels, 32-bit audio processing, Over 256 audio channels
Memory : 512 MB of 700 MHz GDDR3 RAM, Unified memory architecture
Memory Bandwidth: 22.4 GB/s memory interface bus bandwidth, 256 GB/s memory bandwidth to EDRAM, 21.6 GB/s front-side bus
Overall System Floating-Point Performance: 1 teraflop
Data Storage: Detachable and upgradeable 20GB hard drive, 12x dual-layer DVD-ROM, Memory Unit support starting at 64 MB
Ports: Support for up to four wireless game controllers, 3 USB 2.0 ports, 2 memory unit slots
Instant, out-of-the-box access to Xbox Live features with broadband service, including Xbox Live Marketplace for downloadable content, gamer profile for digital identity, and voice chat to talk to friends while playing games, watching movies, or listening to music
Built-in Ethernet port
Wi-Fi ready: 802.11a, 802.11b, and 802.11g
Video camera ready
Support for DVD-Video, DVD-ROM, DVD-R/RW, DVD+R/RW, CD-DA, CD-ROM, CD-R, CD-RW, WMA CD, MP3 CD, JPEG Photo CD • Ability to stream media from portable music devices, digital cameras and Windows XP-based PCs
Ability to rip music to the Xbox 360 hard drive
Custom playlists in every game
Built-in Media Center Extender for Windows XP Media Center Edition 2005
Interactive, full-screen 3-D visualizers
All games supported at 16:9, 720p, and 1080i, anti-aliasing
Standard-definition and high-definition video output supported
System Orientation: Stands vertically or horizontally
Customizable Face Plates that are interchangeable to personalize the console
System Development Status: Complete
System Release Status: Released
Platform: Microsoft Xbox 360.