Active Enterprises Action Gamemaster
Console Information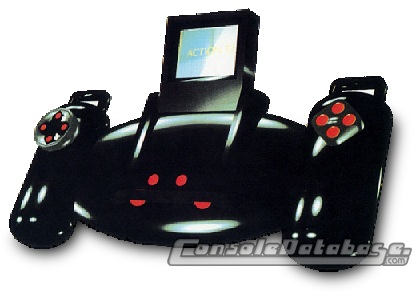 This handheld console was never actually made, but from this 3D visualisation of the console, we can see very early stages of planning. The console was one of the outrageous plans of Active Enterprises, the company behind Action 52. The console was never made as the company fell into debt because of such highly pitched plans.
But if this console were made, it would have been really neat. According to the design sheets, the Action Gamemaster comes with a cartridge slot, designed for games made specifically for the this machine, the first one planned being Cheetahmen III. This cartridge slot would accept 4 adaptors, sold separately; one for NES games, one for SNES games, one for Genesis games and another for CD-Rom games. But such a machine would be almost impossible to make, especially as a handheld, unless it ran emulators for the different consoles (like Sega Dreamcast does) and used the cartridges as ROMs.
The Action Gamemaster was also planned to have a TV Tuner, Battery Charger, Car Cigarette Lighter Adaptor and a Power Adaptor. The components in the image above are a little out of proportion. Building such a console with these capabilities would make it quite large and not very portable and would be hard to make, even harder back in the days when it was planned. But nevertheless, the idea is good.
Active Enterprises Action GameMaster Technical Specifications
16-bit
3.2 inch colour screen
CD-ROM
Compatible with NES, SNES and Genesis
Light weight
System Development Status: Concept
System Release Status: Unreleased
Platform: Active Enterprises Action Gamemaster.