Horleg Game Key Adaptor
Accessory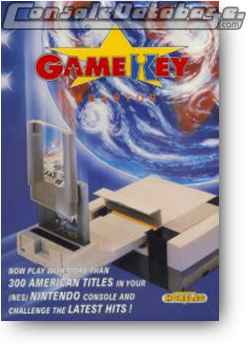 Type: Media Size/Region Adaptor
Made by Horleg in Belgium, the Game Key Adaptor is an adaptor for playing foreign NES games on a NES console. Due to the NES lock-out chip, foreign games cannot usually be played on NES consoles.
For the Game Key to work, an official local NES cartridge must be inserted into one of the two cartridge ports on the unit. The foreign cartridge is then inserted into the second port. The use of the local cartridge fools the console into thinking that a local cartridge is being played, thus the foreign cartridge will play okay on the console.
If you wanted to play a 60-pin Famicom cartridge using this adaptor, you\'d need to first insert the 60-pin cartridge into a 60-pin to 72-pin adaptor, and then insert the paired devices into the Game Key.
Devices similar to the Magic Key include the Magic Key and the HES Unidaptor MKII.